L&M offers individual services that have been provided to our full-service clients since 1993. These services can address a temporary staffing shortage, or support an executive director looking for a short-term way to evaluate and launch new services. We can also assist boards of directors in the search for a new executive, or provide board training and coaching to improve contributions and benefits to their memberships.
Feel free to reach out for a no-obligation discussion. If L&M can't assist you, we'll provide suggestions and recommendations for you to consider. The call will be worth it to you. LoBue@LM-Mgmt.com or 415-561-6111.

FOR EXECUTIVE DIRECTORS AND CEOs
Executive Director Coaching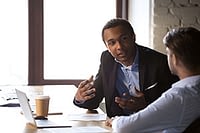 Whether one is a new or experienced executive director or board leader, the use of a coach or mentor can raise your performance.  Being able to discuss challenges and concerns with a trusted advisor, and getting an outsider's perspective, is rarely available to organizational leaders from within their own associations.
If the top 1% of the top 1% of professional athletes use coaches to improve their performance.  Wouldn't a coach improve your performance too?
Marketing & Member Research
Associations are driven by the narratives it creates about its members and their members' markets or professions.  If your association's core narrative is based on "common knowledge" and not all relevant evidence, you could be pursuing the wrong challenges and missing important opportunities for your members.
Do you have all the intelligence you need about your membership before you commit scarce resources to the launch of a new program or benefit?  Association funds and staff resources are too scarce to be used to solve the wrong problems, or to pursue projects that are emotionally satisfying, but not grounded in data or evidence.
Let L&M expose and bust your myths.
Organizational Assessment
To assist associations with the task of enhancing and improving their operations, L&M offers a comprehensive assessment of an organization's effectiveness with an objective review of its mission and goals, governing body and organization structure, programs, resources, finances, communications, membership development, government affairs, and general operations. The review process serves as a reaffirmation of sound governance and management practices in addition to offering constructive recommendations for change.  This assessment is adapted from the ANSI Standard of Good Practices for Association Management Companies to fit any association.
Executive Director Searches
"It takes one to know one."  There's a great deal of truth in this childish comeback when it comes to identifying executive director talent for a particular organization.  L&M executives are experienced at identifying talent and matching senior executives with associations.
Whether the board is looking for the organization's first executive director, or is replacing a longstanding, successful executive director (or something in between), this change presents an opportunity that occurs on average every five or six years.[1]  Our research shows that organizations that directly hire their own staffs, including executive directors, experience exceptionally high executive director turnover rates, compared to executive directors of Association Management Companies (AMCs.).[2]
Why not apply the expertise and knowledge of a successful AMC to your next executive director search?
Board Training
Annual board training can raise board performance to higher levels, resulting in greater board member satisfaction and improved results for the organization.  Boards that embrace training for themselves send the right message to staff about their own professional development.
Many boards, especially with experienced and veteran members, tell themselves they "possess many years of board experience on their boards and don't have the time for training in the little time they have for board service, especially when their organizations require so much."  Here's what seasoned association executives know, but won't say to their boards unless asked:
Every board can benefit from training; and
Every board should conduct self-evaluation once a year.
Interim Executive Director
There's no need to fill a vacant executive director position until the Board is ready to make and support a commitment to the right executive.  An interim executive director can:
support staff;
keep key programs and services running;
provide valuable assessments about your strengths and weaknesses; and
permit you to wait until you're ready to fill this critical position for your organization.
Pre-RFP Complimentary Assessment
After establishing your organization's strategic direction, the next most important decision a board makes is the selection of the organization's executive director, or the selection of an AMC in lieu of hiring staff.  The current process of creating an RFP and distributing it through associations like ASAE and the AMC Institute is extremely inefficient for all parties and more often than it should results in unsatisfactory selections for associations and AMCs.
For association boards considering the services of an AMC, L&M is pleased to provide a complementary, no obligation needs assessment for the board and a recommended set of services that can be used in their RFP.  L&M will complete the assessment before deciding if it will submit a proposal.  Regardless, the assessment report and the service recommendations may be used by the board in their search.
Contact Michael LoBue to learn about this offer.
---